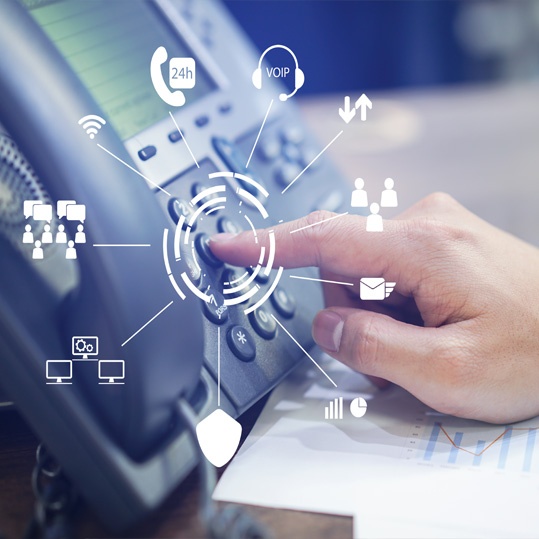 Is your business totally relying on phone calls? Are you suffering from long scary bills every month? Are you searching for better options to save Telephone Bill amount?
VoIP known as Voice Over Internet Protocol is the greatest innovation of technology so far. For a business whose revenue rely on phone calls can take optimum benefit from it by simply paying a minimal charge of internet connection. With a less, start-up cost this phone system can be of competitive advantage. A VoIP can tremendously reduce your telephone bill and can be hosted on PBX System and on-premise PBX solution.
VoIP is a technology which allows calling service over the internet. The service can be used over a broadband connection. It is a realistic solution for the business who are seeking guidance to replace their traditional calling approach.
WHAT ARE THE ADVANTAGES OF USING VoIP SERVICES?
Low Cost: As the phone service is operated by broadband connectivity, therefore one only needs a phone set.
No Tax: Government has not yet levied any tax for VoIP. You only need to pay tax on the internet. Unlike traditional phone where phone bill is inclusive of tax can totally rip you apart.
Portability: You have internet service everywhere you can carry your phone anywhere. Either offshore or another city, VoIP service can be availed from any corner.
No Cables: If you have a high-speed broadband connection you don't need any access point with long cables to connect your telephone system.
WHAT DO BIZ TELECOM OFFER FOR VOIP SERVICE?
Biz Telecom has been providing VoIP services to more than 100 of businesses in Australia since 2012. We offer customized design for the VOIP service at an affordable rate. We offer;
Own equipment and software.
Custom developed billing system.
Independent VoIP service provider.
Offer private IP connection for VOIP service.
No maintenance fees.
Missed call notification and call transferring service.
Single VOIP system for the entire office.
Retention of existing phone numbers.
Transmission of calls from Business IP lines, Hosted PBX and Business SIP trunk.
24/7 support service.
For VoIP service kindly contact us at 1300 138 600!