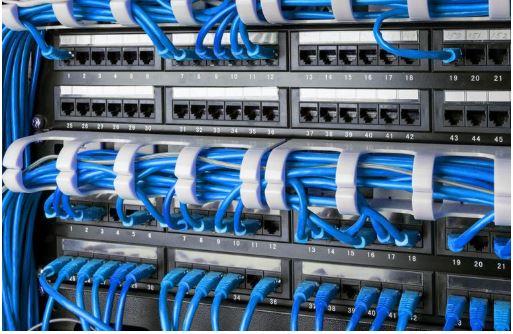 Seize the opportunity of Digital Transformation with cost-effective, fast, reliable Ethernet service which offers high coverage for voice, video, and data. Ethernet is delivered over fiber or copper. Copper-based Ethernet service is delivered through multiple copper bonding while Fibre based Ethernet service is delivered via single fiber.
Fibre and Copper ethernet services are both highly reliable technologies, presented to clients at 10/100 port for easy addition to the existing Ethernet equipment.
Delivery of broadband services with the use of same copper wire used for the telephone connection is known as ADSL, while ADSL 2+ is the maximum theoretical speed offering 24Mbps download and 1 Mbps upload facility. To connect with ADSL 2+ internet service, one must mandatorily have a phone line and a router. It is the most commonly available technology to connect business and home to the internet.
WHAT ARE THE ADVANTAGES OF USING ETHERNET?
Simple to troubleshoot and maintain the ethernet network.
Ethernet network does not follow client-server architecture.
The cables used for ethernet connections are immune to the disturbance which maintain quality in connectivity.
It is a cost-effective method to form ethernet based networks of the computer.
Transfer of speed is possible in this network due to the presence of Gigabit network.
WHY CHOOSE BIZ TELECOM FOR ETHERNET SERVICE?
Biz Telecom is a certified retailer of TPG & Telstra ethernet service. We deploy best ethernet service to encounter diversified network architecture requirement with the bandwidth ranging from 10Mbps to 10 Gbps. We assure to meet the highest standards when delivering Ethernet services.

Additional business opportunities: Wide range of opportunities for the cloud, internet, video, VoIP solution to millions of customers using carriage service of TPG and Telstra.
Customized Flexibility: It gives users an option to match their speed requirement with a bandwidth option of 256kb to 10GB.
Industry Certified: We offer you internets which are certified for first-class connectivity with EFM 10 Meg, EFM 20 Meg.
Swift speed: No connectivity breakage with an option of a point to point access where the users can create new links for point to point service.
Up Time service: Connects multiple paths with minimal interruption offering service continuity with secure protection.

 
WHAT MAKES BIZ TELECOM STAND OUT?
National Coverage: The services relayed by Biz Telecom is available in Brisbane, Sydney, Perth, Melbourne and many more. We offer flat rate pricing to expand our service.
Secure and Reliable: Transmission and protocol are completely under your control as you will be taking care of the hardware by maintaining technologies in a simple manner.
High-end security: Biz Telecom securely transfers data to the designated fiber. This ensures full control over the Ethernet network.
Flexible Pricing Model: To facilitate the service taker Biz Telecom has designed pricing model which are flexible in nature.
Site Surveillance: Our technicians will get a quick look out of the site where the ethernet is to be connected. This allows Biz Telecom to offer versatile network architectures which can make any ethernet service available and accessible on demand.
To Avail for Ethernet service from the best Service provider in Sydney, Australia kindly contact us at 1300 138 600! Let's have a quick meeting to identify your requirement so that we can meet the laid needs with high standard.